A Column for Sally Hemings
ARTIST: MARTIN PURYEAR
MEDIUM: CAST IRON, MARBLE
DIMENSIONS: 80 × 15¾ × 15¾ INCHES; 203 × 40 × 40 CM
Martin Puryear's "A Column for Sally Hemings" was born for his exhibition at the 58th Venice Biennale's United States Pavilion. Its fluted base mirrored the Doric columns of Thomas Jefferson's Monticello, where enslaved Sally Hemings, the mother of six of Jefferson's children, lived. The sculpture's profound dedication to her memory is evident in the title. Atop the column, a shackled cast-iron stake disrupts the classical perfection, a recurring motif seen in Puryear's recent works like "Shackled" and "Big Bling." This powerful piece intertwines history and contemporary symbolism, inviting reflection on the enduring impact of slavery and the resilience of the human spirit.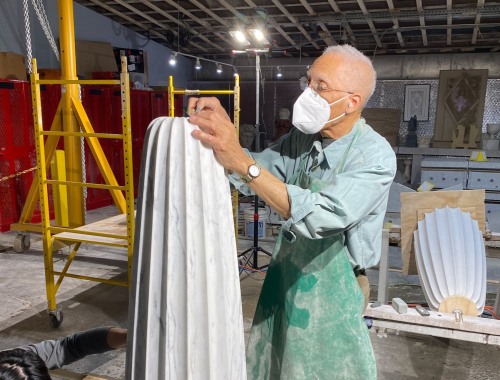 Artist Martin Puryear collaborated extensively with the skilled team at Quarra, engaging in a process that spanned multiple stages of the creative process.
At the outset, Puryear and the Quarra team worked hand-in-hand on the fabrication drawings, meticulously ensuring a flawless translation of the original wood sculpture into stone. Guided by Puryear's discerning eye and the expertise of the Quarra team they chose a pristine white marble sourced from the quarries of Italy, known as Bianco P.
Puryear's visited the Quarra workshop to collaborate directly with the skilled craftsmen. He created custom tools for the craftsmen, empowering them to explore innovative ways of working with the marble. This hands-on approach not only deepened the bond between the artist and the team but also allowed for an exchange of ideas and techniques that enriched the creative process.