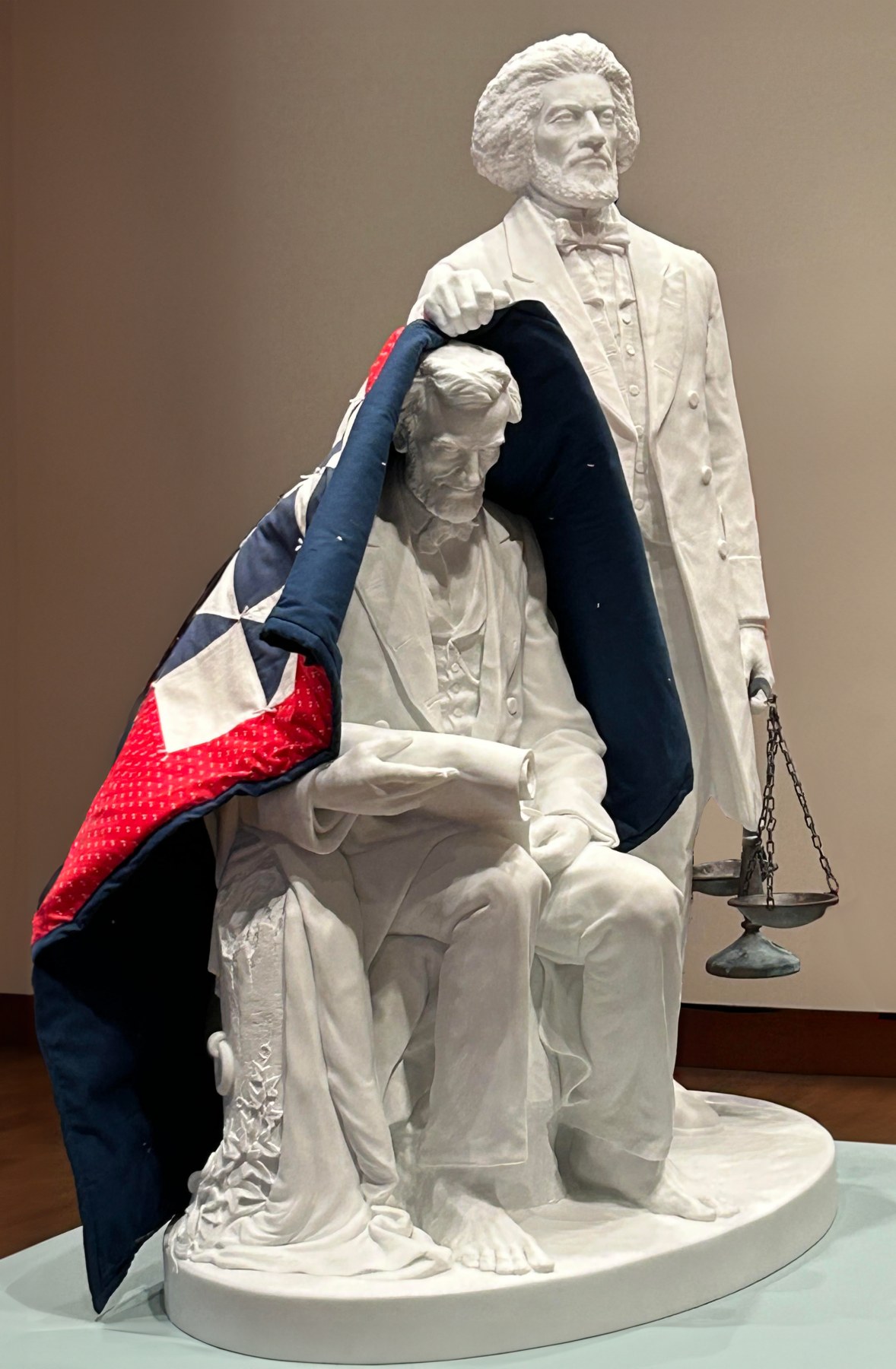 Lifting the Veil
ARTIST: SANFORD BIGGERS
MEDIUM: BIANCO P MARBLE, MIXED MEDIA
COLLECTION: PERMEANT COLLECTION OF THE CHAZEN ART MUSEUM, UNIVERSITY OF WISCONSIN, MADISON
"Lifting the Veil asserts the wisdom, power and foresight of Frederick Douglass, an African American pillar of our history, and gives the Chazen Museum of Art the privilege of recontextualizing a challenging work that reflects our American past and, in many ways, addresses today's social and racial injustices," said Amy Gilman, the Chazen Museum of Art's director. "The murder of George Floyd in 2020 and the subsequent removal of monuments across the country, including Artist Thomas Ball's Emancipation Memorial in Boston, triggered a heightened sense of urgency for us to address Emancipation Group's place in our collection and the Museum's role in confronting contentious works on view."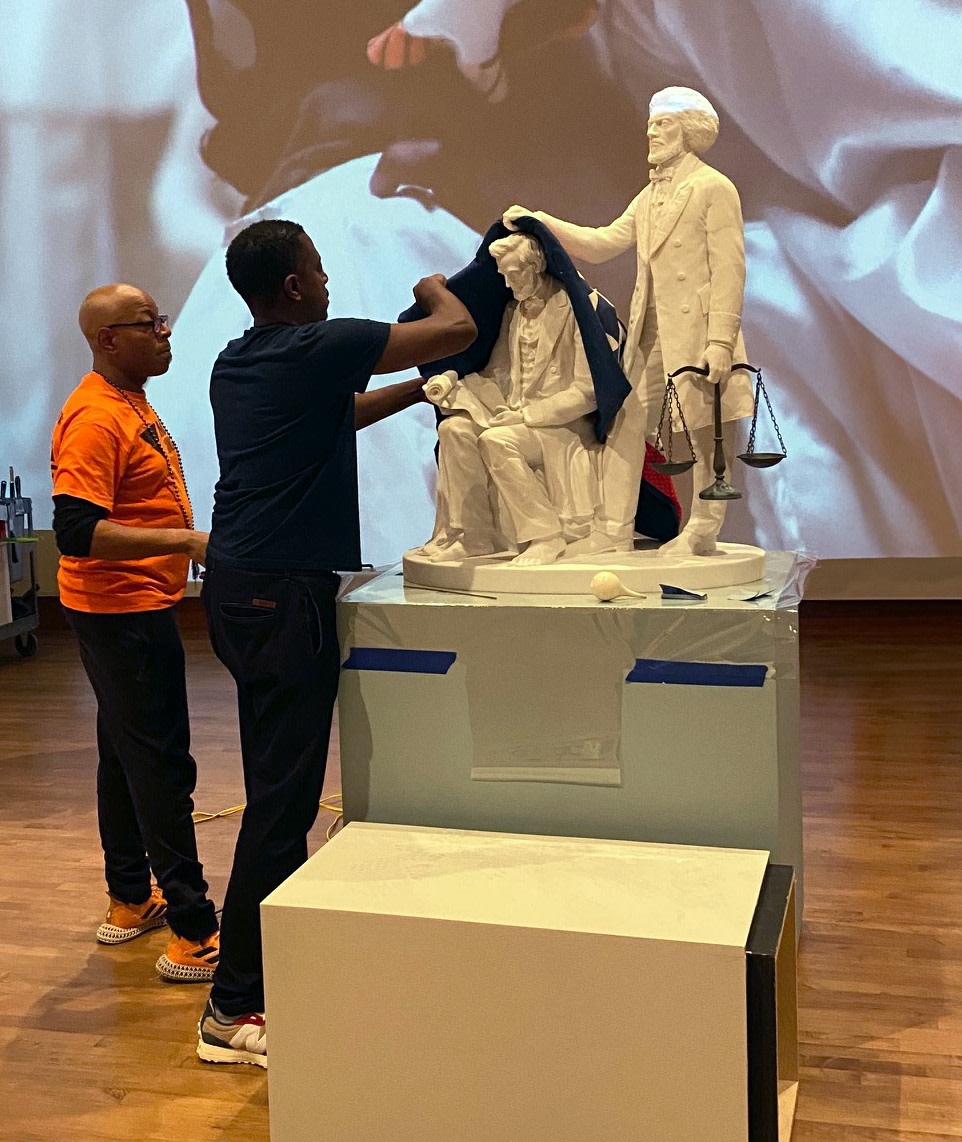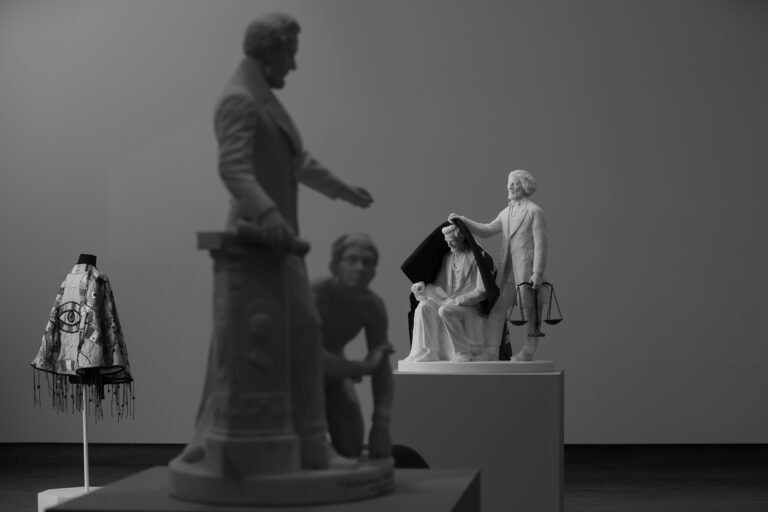 Thomas Ball's marble sculpture in the Chazen's collection was a study for Emancipation Memorial (1875), the bronze monument erected in Washington, D.C.'s Lincoln Park. At the sculpture's dedication in 1876, Frederick Douglass expressed disappointment in the partial truth it portrayed. In creating an object to mark the end of slavery in the United States, Douglass believed Ball failed to acknowledge enslaved people who protested, escaped and went to other active lengths in the quest for freedom.
Fabrication for Lifting the Veil, which took place at Quarra Stone Company in Madison, Wisconsin, included input from Oscar-nominated hairstylist Camille Friend. As fabricators refined Douglass' hair, she provided guidance about his hair type based on an array of historic images, ensuring that Biggers' sculpture accurately reflects Douglass' texture and curl pattern. "So often, American white men look at Italian sculptures and replicate that style as they depict African Americans. This is apparent in Thomas Ball's sculpture as well as Chris Keck's representation of Booker T. Washington," said Biggers. "Hair is an important part of African and African American culture and one of Frederick Douglass' most recognizable traits. It was important to me to veer away from neoclassical styles and enlist the counsel of someone who specializes in hair to perfect such an important element of the work."
Read more on the Chazen Museum website.