Main Fountain Garden, Longwood Gardens
Location: Kennett Square, PA
Client: Longwood Gardens
ARCHITECT: Beyer Blinder Belle Architects & Planners
FOUNTAIN DESIGNER: Fluidity Design Consultants
DECORATIVE STONE CARVING: Quarra Stone Company
The Main Fountain Garden at Longwood, a historic site listed on the National Register of Historic Places, remains an iconic feature that has seen little change since its completion in 1936 by Pierre S. du Pont heir to General Motors, who purchased the property in 1906. Over the next five decades, he transformed the estate into a country estate with stunning display gardens, drawing inspiration from grand water gardens in Europe.
After 80 years, Longwood undertook a significant restoration project to preserve the Main Fountain Garden's architectural elements and upgrade its infrastructure while remaining faithful to du Pont's original vision. Beyer Blinder Belle Architects & Planners, based in New York City, was entrusted with the five-year rehabilitation, successfully completed in May 2017.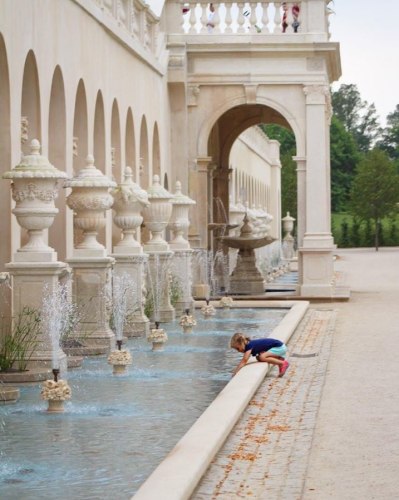 Restoring the Historic Italian Limestone Bouquet Fountains at Longwood's Main Fountain Garden

Quarra Stone played a crucial role in the restoration of the Main Fountain Garden at Longwood. As the project required replicating the 75 intricate Italian limestone bouquet fountains found at the upper and lower canals, modern technology and the expertise of Quarra Stone were instrumental in achieving the task.
The original ornate and decorative pieces carved from Italian limestone, specifically sourced from the prestigious Bianco Avorio Quarry in Vicenza, presented a unique challenge. This particular stone, softer and more complex in nature, had not withstood the test of time as well as desired under the severe conditions it had been subjected to over the years.
To ensure the accurate reproduction of each of the 75 distinctive bouquet fountains, Quarra Stone employed state-of-the-art machinery and a team of skilled craftsmen. First precision cutting equipment, was utilized to machine-cut the Italian limestone, maintaining the intricate details and shapes of the original designs.
Then hand tooling was employed by Quarra artisans refine and perfect each unique bouquet sculpture. This hand-tooled process involved the delicate and precise sculpting of the stone surfaces to replicate the fine details and intricacies of the original carvings. It required exceptional craftsmanship and a deep understanding of the stone's properties to bring forth the desired aesthetic and quality.
Through the combined use of advanced machinery and artisanal skills of their craftsmen, Quarra Stone Co. successfully recreated the 75 Italian limestone bouquet fountains preserving the historical integrity of the Main Fountain Garden.