Vals Quartzite
Vals Quartzite, a magnificent stone quarried in the Swiss Alps, stands out for its unparalleled qualities. Possessing the durability of granite and the graceful movement and veining reminiscent of marble, it exhibits shades of green and grey adorned with white quartz veins. Throughout the stone, you'll find mesmerizing reflections from silver mica and white quartz, creating a captivating interplay of light and patterns. Each piece of this stone is truly one-of-a-kind. Renowned for its exceptional versatility, this stone is suitable for both interior and exterior applications, even in harsh freeze/thaw and salt-rich winter environments.
When it comes to availability and flexibility, Vals Quartzite offers both standard piece sizes and the option for custom cuts to meet your specific project requirements. With its enduring allure and exceptional durability, Vals Quartzite is a choice that will elevate any architectural or design endeavor.
Quarra Stone is the exclusive North American sales representative of Vals Quartzite.
During the early 2000s, Quarra Stone, established a partnership with Truffer AG Quarrier by constructing two dormitories at Swarthmore College near Philadelphia. Quarra's Vals projects span various locations, including Mills College, Yale Bass Library, Slope Side in Wyoming, Deloitte Tower in Toronto, Canada, Eaton Corporate Headquarters, and numerous private residences.
Please contact us for further information:
+1-608-246-8803
sales@quarrastone.com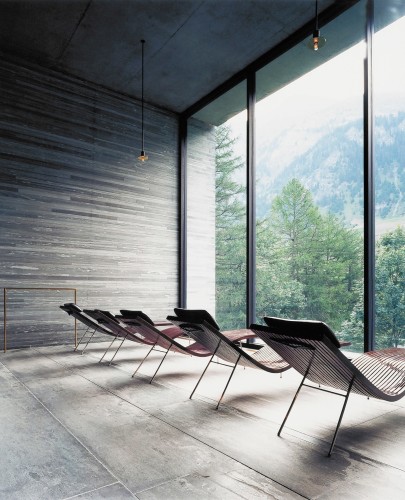 HISTORY
VALS THERME SPA, SWITZERLAND
ARCHITECT: Peter Zumthor
Achieving architectural legendary status, Vals Quartzite gained prominence through its use in Peter Zumthor's renowned Therme Spa, which contributed to his prestigious Pritzker Prize win. The spa's design showcased the timeless beauty and exceptional qualities of this remarkable stone.
The village of 1000 people took a bold step when they purchased Therme Spa from UBS bank, following the string of commercial failures experienced by the town's largest employer. Recognizing that only a new spa program could revive the village, they enlisted the services of Peter Zumthor, a then-little known Swiss architect, to reimagine the venture.
Vals Quartzite serves as the primary material for both the interior and exterior walls, as well as the flooring of the Therme Spa. This unique stone imparts a distinct character to the project, with its long, thin strips coloring the light and creating a serene atmosphere that harmonizes effortlessly with the surrounding water. Within the spa, there is even a room where strangers come together to hum in unison, producing harmonized Gregorian chants.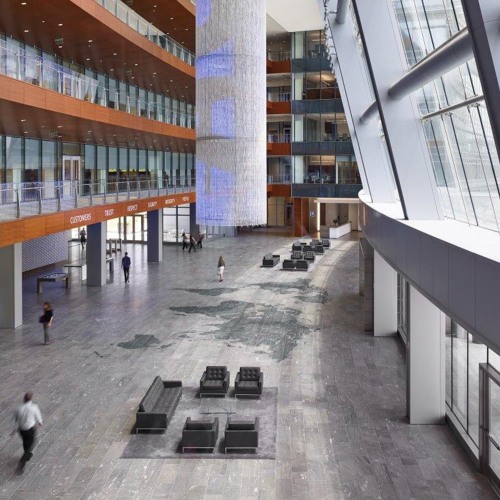 Featured Project
Eaton Corporate Headquarters
Quarra Stone showcased the timeless beauty of Vals Quartzite by supplying 50,000 sq. ft. of this unique stone flooring for Eaton Corporate Headquarters in Cleveland, Ohio. Utilizing trapezoidal shapes in two contrasting color shades, they creatively represented continents, symbolizing global interconnectedness. The distinct dark Vals Quartzite, complemented by a precise stainless steel border, added an elegant touch. Through their design expertise and hands-on approach, Quarra demonstrated an unwavering commitment to precision and craftsmanship, allowing for a thorough exploration of the design possibilities of Vals, evaluating different patterns, and configurations for the most striking visual impact and feasibility.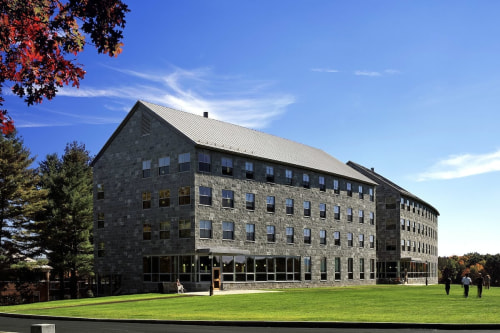 Featured Project
King and Weiland Residence Halls, Amherst College
Architects William Rawn designed the stone-clad King and Wieland Residence Halls at Amherst College, drawing inspiration from the simplicity of College Row. A graceful curve was formed around the courtyard, offering a captivating view of the Mead Art Museum. These inaugural structures of the East Campus Master Plan, accommodating 105 students, seamlessly blend with the natural landscape, connecting the new campus sector with the Holyoke Range. Quarra Stone meticulously crafted the Vals Quartzite sourced from Switzerland, resulting in a timeless and elegant exterior appearance for the buildings.