PROJECT INSTALLATION
At Quarra, we specialize in seamless installations for art and architectural projects, ensuring that your vision becomes a stunning reality. With our meticulous attention to detail and extensive experience, we are your trusted partner in bringing your creative concepts to life.
We understand that the installation phase is crucial in achieving the desired impact and showcasing the true essence of your artistic or architectural masterpiece. Our team of skilled professionals possesses the expertise and technical know-how to execute flawless installations, no matter the complexity or scale of your project.
From large-scale sculptures that demand precise positioning and structural stability to architectural elements requiring intricate assembly, we have the knowledge and resources to handle it all. We employ innovative techniques, state-of-the-art equipment, and adhere to the highest industry standards to ensure the integrity and longevity of our installations.
Collaborating closely with artists, architects, and designers, we take the time to understand your unique vision and objectives. Our team works diligently to create a customized installation plan that seamlessly integrates with the surrounding environment, enhancing the overall aesthetic and functionality of the space.
With a keen eye for detail and a commitment to excellence, we meticulously handle every aspect of the installation process, including logistics, site preparation, and post-installation inspections. Our goal is to exceed your expectations and deliver an installation that surpasses your vision, leaving a lasting impression on all who experience it.
Whether you are seeking an awe-inspiring art installation for a public space or a meticulously crafted architectural feature for a private residence, Quarra is your trusted partner. Contact us today to discuss your project requirements and let us transform your artistic and architectural dreams into a tangible, breathtaking reality.
CONTACT US
+1 608 246 8803
SALES@QUARRASTONE.COM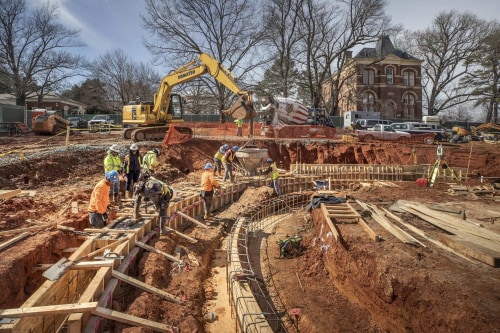 FEATURED PROJECT
Memorial to Enslaved Laborers, University of Virginia
The Memorial to Enslaved Laborers at the University of Virginia honors the 4,000 enslaved individuals who contributed to the university's development. Quarra Stone collaborated with architects and experts to create the memorial using local granite, with precision carving and digital fabrication. Their skilled team installed the memorial, symbolizing the strength and enduring impact of those who were enslaved, promoting a just and inclusive future.