RESTORATION
At Quarra, our Restoration Department comprises a highly skilled and dedicated team of professionals who are passionate about preserving and restoring historical buildings and stoneworks. Our staff consists of architects, restoration specialists, master carvers, craftsmen, and technicians, all of whom bring their expertise and years of experience to each project.
With a collective experience of decades in the field of restoration, our team has successfully collaborated with renowned architects and specialists on numerous projects. We have worked on diverse restoration endeavors, ranging from iconic landmarks to lesser-known historical structures. Our portfolio includes the restoration of churches, government buildings, monuments, and more. Through these projects, we have honed our skills and gained invaluable knowledge about various architectural styles and historical construction techniques.
We understand that large-scale restoration projects demand careful attention to detail and efficient management. That's why we prioritize the implementation of robust information systems. These systems allow us to effectively track and monitor hundreds or even thousands of individual pieces at different stages of restoration. From initial surveys to demolition, stone carving to replacement, we ensure that each component is documented, cataloged, and managed seamlessly. Our comprehensive approach to project management guarantees that every aspect of the restoration process is meticulously executed.
One of the hallmarks of our Restoration Department is our ability to match historic tooling with exceptional accuracy. We collaborate with traditionally trained master carvers who possess deep knowledge and understanding of historical craftsmanship techniques. By combining their skills with state-of-the-art technology and processes, such as scanning and advanced 3D modeling, we achieve unparalleled precision in reproducing intricate details. Our commitment to blending traditional craftsmanship with modern techniques ensures that the restored structures retain their historical authenticity while meeting the highest standards.
CONTACT US
PHONE: +1 608 246 8803
EMAIL: SALES@QUARRASTONE.COM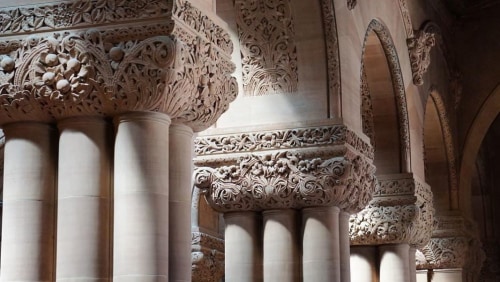 Featured Project
New York State Capitol
The New York Capitol Building, inspired by a French chateau and Romanesque/French Renaissance styles, took 32 years to build (1867-1899) with contributions from five architects. The Great Western Staircase, designed by Henry Hobson Richardson and completed by Isaac G. Perry, had a skylight and lighting praised for perfection. A fire in 1911 caused significant damage, leading to modifications during WWII and the 1960s. A restoration project in 2000, led by Quarra Stone, revived the Capitol's grandeur, with meticulous replication of the skylight and laylight while preserving historical character.