Stone Cladding
At Quarra Stone, we specialize in stone cladding, offering a wide range of options for both interior and exterior applications. Whether you need a simple cladding solution or a complex, large-scale project, we have the expertise and capabilities to meet your requirements.
Material Selection:
We pride ourselves on sourcing the finest stone materials from all over the world. Our extensive network allows us to access a diverse range of stones, ensuring that we can provide the perfect match for your project. From classic marbles to exotic granites and everything in between, we have a vast selection to choose from.
Traditional Cut Stone to Digital Fabrication:
Quarra is known for its versatility when it comes to fabrication techniques. We are equipped to handle traditional cut stone work, where skilled artisans meticulously shape and carve stones by hand. Additionally, we are at the forefront of robotic fabrication technology, allowing us to achieve precise and complex designs with the help of advanced machinery. Whether you seek the time-honored craftsmanship of hand carving or the precision of robotic fabrication, we have the capabilities to deliver exceptional results.
Types of Projects:
Quarra undertakes projects of all sizes, catering to both interior and exterior applications. Our portfolio ranges from small-scale cladding projects to large multi-load endeavors. For instance, we were entrusted with supplying 250,000 square feet of 3" thick Sandstone for the interior of the US Capitol Visitors Center, along with crafting ornate columns adorned with intricately carved capitals. No matter the scope or complexity, we bring the same dedication and attention to detail to every project we undertake.
Stone Fabrication:
We work with all types of natural stone, harnessing their inherent beauty and durability to create stunning architectural elements. Our craftsmen are skilled in working with a wide variety of stones, including marble, granite, limestone, travertine, and more. Whatever your stone preference, we have the expertise to fabricate it to your exact specifications.
Related Services:
At Quarra, we offer a range of related services to ensure a seamless and comprehensive experience for our clients. Our team is experienced in installation, engineering, drafting, and 3D modeling. Whether you require expert guidance during the installation process, detailed engineering calculations, precise drafting and documentation, or visualizations through 3D modeling, we have the capabilities to support your project from start to finish.
Choose Quarra Stone for your cladding needs, and experience the perfect blend of craftsmanship, innovation, and exceptional service. Contact us today to discuss your project requirements and let us bring your vision to life.
CONTACT US
PHONE: +1 608 246 8803
EMAIL: SALES@QUARRASTONE.COM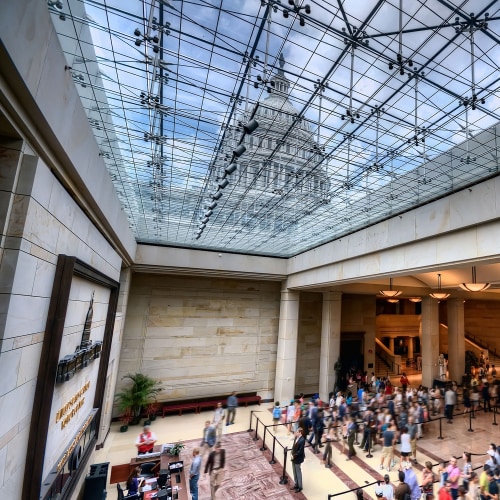 Featured Project
United States Capitol Visitors Center
Quarra Stone played a vital role in the Capitol Visitor Center's construction, skillfully installing sandstone slabs resembling the Capitol's original materials. Their expertise in sourcing and fabrication ensured a seamless integration, honoring the nation's history and democratic values for millions of visitors accessing the underground center.