STONE CONSULTING
At Quarra Stone, our Stone Consultant services offer a comprehensive approach that combines art, science, and engineering to ensure the perfect selection of stone for your project. Our professional stone selection services take into account the project's aesthetics, desired lifespan, and budget, as well as important considerations such as environmentally sustainable sourcing, labor safety, and diverse material options.
We understand that choosing the right stone involves more than just visual appeal. It requires a deep understanding of the material's properties, durability, and suitability for the intended use. That's why we incorporate the best stone testing facilities into our process. We analyze and interpret the data to determine whether the stone is fit for its intended purpose, ensuring its long-term performance and integrity.
As part of our commitment to collaboration and knowledge sharing, we enjoy educating and guiding our collaborators, including owner's representatives, architects, general contractors, and engineers. We provide opportunities for quarry visits, where you can witness the sourcing process firsthand and gain a deeper appreciation for the stone's origins. We also offer a proprietary matrix and conduct exemplar reviews to help you make informed decisions. Our one-on-one presentations further enhance your understanding of the stone selection process, ensuring that you are equipped with the knowledge necessary to make informed choices.
To assist with your research and design process, we offer a series of mockups that allow you to visualize how different stones and finishes will look in your project. Additionally, we provide professional drone, video, and still photography services to capture detailed images and footage, allowing for thorough examination and analysis.
Ultimately, our goal as Stone Consultants is to ensure that you have the right stone for your project, delivered on time and within your budget. We prioritize open communication, attention to detail, and a thorough understanding of your specific requirements. With our expertise and extensive industry knowledge, we guide you through the selection process, helping you navigate the vast array of options to find the ideal stone that meets your project's unique needs.
At Quarra Stone, we are dedicated to providing exceptional Stone Consultant services that go beyond traditional stone sourcing. We are your trusted partner in finding the perfect stone solution, combining functionality, beauty, and sustainability for your architectural and design projects."
With our specialized knowledge and experience, we offer a wide range of consulting services tailored to your specific needs. Whether you require assistance in stone specification, sourcing, or project management, our team of experts is equipped to provide valuable insights and guidance. By collaborating with Quarra you can further streamline your stone selection process and make informed decisions that align with your project's goals. Contact Quarra today to take advantage of our expertise and elevate your stone sourcing experience to new heights.
CONTACT US
+1 608 246 8803
SALES@QUARRASTONE.COM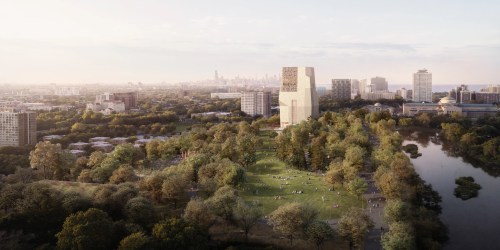 FEATURED PROJECT
The Obama Presidential Center
The Obama Presidential Center in Chicago, Illinois, promises to be a celebrated landmark, boasting a distinctive design and elegant stone exterior that will gracefully age over time. The Quarra Stone Company played a crucial role in expertly selecting the domestically sourced granite, aligning with the aesthetic vision and ensuring a service life of 100 years. Their seamless collaboration with various stakeholders, along with meticulous planning and coordination, ensures a lasting impact for generations to come.