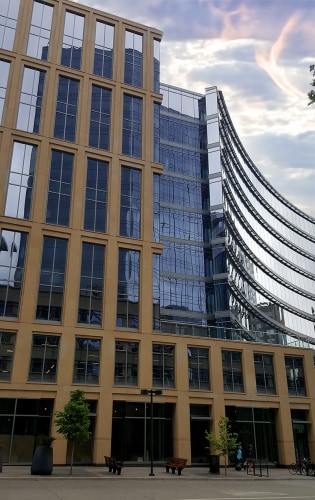 1601 Wewatta Street
Location: Denver, Colorado
Stone Consultant: Quarra Stone
Design: HOK Architecture (formerly Hellmuth, Obata + Kassabaum & Smith Group JJR
Client: Hines – Real estate, development and management firm
Hines, a prominent real estate, development, and management firm, enlisted the expertise of Quarra Stone to source and procure the necessary stone for this private development. Quarra Stone's involvement provided an impartial and external analysis, ensuring the protection of the developer and client from potential liabilities and personal biases.
Quarra Stone's responsibilities encompassed several key areas. First, we identified the precise quarry location from which the limestone was sourced. Additionally, we coordinated and commissioned material testing for the actual blocks that would be utilized in the project. To further enhance their analysis, Quarra conducted field inspections of three recently completed projects in a northern climate that employed the same stone. We also undertook a comprehensive review of shop drawings to ensure adherence to best practices and a robust anchoring system.
In addition to these measures, Quarra Stone focused on the fabrication process, conducting inspections that emphasized quality control procedures, including the use of epoxy.
As a testament to our expertise and performance, Quarra Stone was subsequently chosen to provide the interior stone for the buildings.