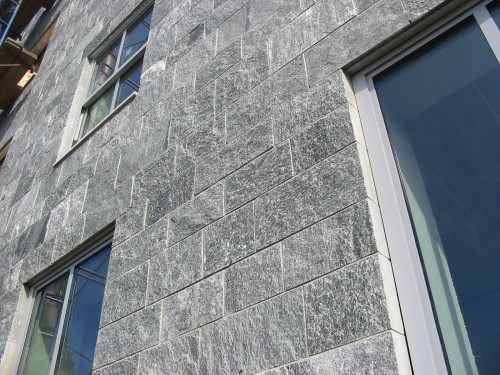 King and Weiland Residence Halls, Amherst College
Architects: William Rawn
Client: Amherst College
Location: Amherst, Massachusetts
Stone: Vals Quartzite
Designed by architects William Rawn and commissioned by Amherst College, these stone, four-story buildings pay homage to the simplicity and elegance of Amherst's historic College Row. King Hall, named after Stanley King '03, and Wieland Hall, in honor of John F. Wieland '58, create a graceful curve around the courtyard, offering a captivating view of the Mead Art Museum.
These stone-clad residence halls, housing 105 students, mark the inaugural structures of the East Campus Master Plan. Nestled along a gentle slope, they act as a transition, framing the vista from the new campus sector toward the majestic Holyoke Range, while bridging the formal campus areas and the athletic fields below.
At Quarra Stone, we selected and fabricated the stone for both buildings. Our choice was Vals Quartzite, an extraordinary stone sourced from the quarries of Vals, Switzerland. Vals Quartzite, revered for its exceptional durability and captivating visual qualities, perfectly embodies the design vision of the King and Weiland Residence Halls.
With our expertise in stone selection and our commitment to unparalleled craftsmanship, we ensured that every piece of Vals Quartzite was carefully shaped, cut, and finished to meet the precise specifications of the project. The result is a seamless integration of this remarkable stone, lending an air of timeless elegance to the buildings' exteriors