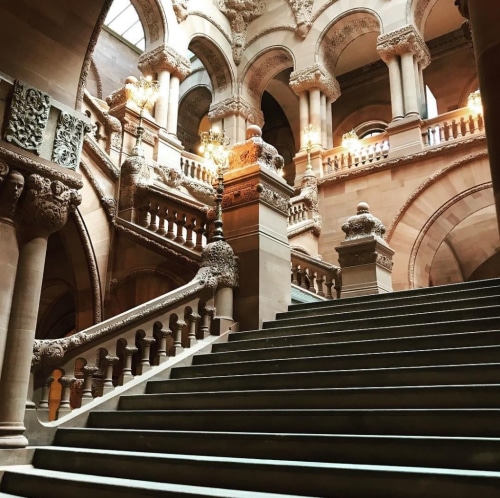 New York State Capitol
Client: State of New York
Location: Albany, NY


The New York Capitol Building, an architectural blend of French chateau, Romanesque, and French Renaissance styles, underwent a lengthy construction process spanning 32 years from 1867 to 1899, involving five architects. It featured Westchester marble, cut by Sing Sing prisoners. Henry Hobson Richardson contributed to the design with the Senate Chamber, hallway, and the grand Great Western Staircase, while Isaac G. Perry completed the staircase with additional decorative stone carvings and a steel and glass skylight to allow natural light.
However, a devastating fire in 1911 caused significant damage to the west end of the Capitol, affecting areas such as the State Library, skylight, and upper levels of the Great Western Staircase. Protective measures during World War II and later alterations, including painting over the skylight with gold reflective paint and replacing it with plywood and slate, led to a significant deviation from its original design. Despite these challenges, the Capitol's grandeur still remains, with the Western Staircase praised for its lighting effects and overall magnificence.
Reviving the Grandeur of New York Capitol's Architectural Gem

Recognizing the importance of restoring these key elements, a comprehensive restoration project was undertaken in 2000. Quarra Stone, renowned for their expertise in stone restoration and craftsmanship, was entrusted with the crucial task of restoring the west end, skylight, and upper levels of the Great Western Staircase.
Quarra Stone's role in this restoration project was pivotal in reviving the Capitol's architectural grandeur. Their skilled artisans and craftsmen meticulously replicated the intricate details of the skylight and laylight to match their original design. While certain modifications were made for safety considerations, Quarra Stone ensured that the restored elements remained faithful to the Capitol's historical character.
Through their extensive knowledge and experience, Quarra Stone successfully brought back the splendor of the west end, skylight, and upper levels of the Great Western Staircase. Their dedication to preserving the Capitol's architectural heritage and their commitment to excellence in stone restoration made them an integral part of the restoration process. The Capitol building stands today as a testament to the skill and craftsmanship of Quarra Stone, as well as a cherished symbol of the nation's history and democracy.