House of Horns
ARCHITECT: WOJR
LOCATION: California
STONE: Fantastico Marble
Awards; The Winner of the 65th Annual Progressive Architecture Awards
WOJR, founded by William O'Brien Jr, a graduate of Harvard's architecture program and professor at MIT, actively seeks to establish a dialogue between art and architecture. "House of Horns," a two-story dwelling spanning an expansive 8,500 square feet, embodies a captivating juxtaposition. While its plan adheres to a rectilinear framework, its form evolves into a highly sculptural expression, captivating the imagination.
The floating marble partitions, with their final high honed finish, seamlessly integrate with the home's elegant and curvaceous ceilings, clad in warm blonde wood. This meticulous attention to detail and craftsmanship achieves a harmonious aesthetic, combining the organic qualities of the marble with the inviting ambiance of the interior space.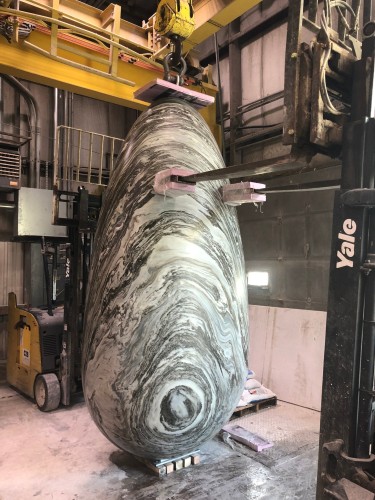 Together, WOJR and Quarra selected and procured a distinctive stone for the project. The final choice was Fantastico Marble a stunning natural stone known for its distinctive and captivating appearance. Quarried in Vermont, the intricate veining patterns and unique color variations of gray, beige, and sometimes hints of gold make each block of Fantastico marble truly one-of-a-kind, enhancing its allure and artistic appeal. The interplay of light and shadow on the polished surface of the marble further accentuates its natural beauty, creating a sense of movement and depth.
For the sculptural and functional areas of the home, WOJR collaborated with Quarra Stone and their high end digital fabrication studio, Q-Lab. Through the use of industrial robots, the marble was expertly carved, enhancing its natural veining in a striking and dramatic manner. A true testament to Quarra Stone's capabilities, the large-scale "egg" structure exemplifies the studio's ability to accommodate grand-scale fabrication.