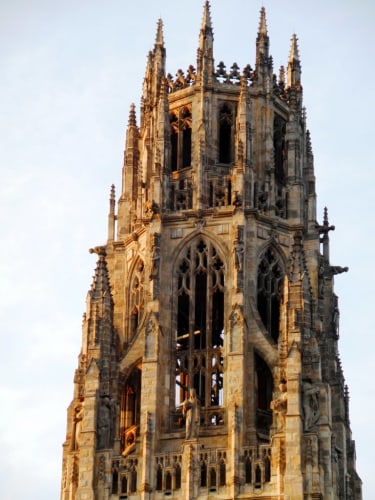 Harkness Tower
Location: New Haven, CT
Client: Yale University
Harkness Tower, a renowned landmark on the campus of Yale University, holds great significance in its Collegiate Gothic architecture. Constructed between 1917 and 1921, the tower was designed by James Gamble Rogers, who drew inspiration from the fifteenth-century St. Botolph's Church in Boston, England. Standing at a towering height of 216 feet, the structure is adorned with statues representing notable Yale alumni, as well as philosophers, allegorical figures, warriors, athletes, students, socialites, and poets.
In order to restore and preserve the masonry and ornamentation of Harkness Tower, a renovation project was undertaken. Quarra Stone played a crucial role in the rehabilitation process. Quarra Stone undertook the meticulous task of replacing elements of damaged stone. Their expertise in precision stone fabrication allowed for the seamless integration of new stone elements while maintaining the tower's historical integrity.
Robotic Precision and Skilled Craftsmanship Revive Harkness Tower's Architectural Beauty
Through the use of advanced robotic technology, Quarra Stone achieved precision in the creation of replacement stone units. These units were then meticulously hand-carved, ensuring that every detail and nuance matched the original design. The combination of robotic fabrication and skilled craftsmanship by Quarra Stone brought new life to the masonry of Harkness Tower, preserving its architectural beauty for future generations to appreciate.