DIGITAL FABRICATION
At Quarra Stone, our Digital Fabrication Department stands at the forefront of technological advancements in manufacturing. As the world leader in digital and robotic manufacturing technology and processes, we have revolutionized the possibilities of working with stone. Through contemporary digital fabrication methods, we can now fabricate intricate and complex forms and surfaces that were previously unattainable.
What sets us apart is our exceptional team of technical staff. With a unique breadth of educational backgrounds spanning architecture, fine art, and computational design, our experts possess a diverse range of skills and perspectives. This multidisciplinary approach enables us to push the boundaries of creativity and innovation in stone fabrication.
Our Digital Fabrication Department represents the convergence of tradition and cutting-edge technology. We proudly bring together traditionally trained master stone carvers who employ historic methods and tools with contemporary artists, designers, and architects who leverage computational methods and utilize digitally controlled machinery. This fusion of expertise allows us to marry the timeless craftsmanship of stone carving with the precision and efficiency of digital fabrication techniques.
Through the integration of advanced software, 3D modeling, and robotic machinery, we can translate complex designs into tangible stone structures. Whether it's intricate architectural details, sculptural art pieces, or large-scale installations, our digital fabrication capabilities enable us to realize even the most ambitious visions. The precision and accuracy achieved through our digital workflows ensure the highest level of quality and craftsmanship in every project we undertake.
Our commitment to digital fabrication extends beyond mere production. We actively collaborate with artists, designers, and architects, working hand in hand to explore the full potential of this transformative technology. By fostering a collaborative environment, we encourage the exchange of ideas and the exploration of new possibilities. We strive to push the boundaries of what can be achieved with stone, enabling our clients to create unique, awe-inspiring works that capture the essence of their vision.
When you choose Quarra Stone's Digital Fabrication Department, you gain access to a world-class team of experts, state-of-the-art technology, and a commitment to excellence. We are passionate about pushing the boundaries of stone fabrication and harnessing the full potential of digital and robotic manufacturing. Whether you are an architect, artist, or designer, we invite you to join us in the exploration of new frontiers in stone craftsmanship and design.
If you are interested in leveraging the capabilities of our Digital Fabrication Department at Quarra Stone, we invite you to get in touch with us. Our team of experts is ready to discuss your unique project requirements, collaborate on design concepts, and offer tailored solutions that push the boundaries of stone craftsmanship. Whether you are an architect, artist, or designer, we are excited to embark on a journey of innovation and creativity with you. Contact our Digital Fabrication Department today to explore the endless possibilities of working with stone in the digital era.
CONTACT US
PHONE: +1 608 246 8803
EMAIL: SALES@QUARRASTONE.COM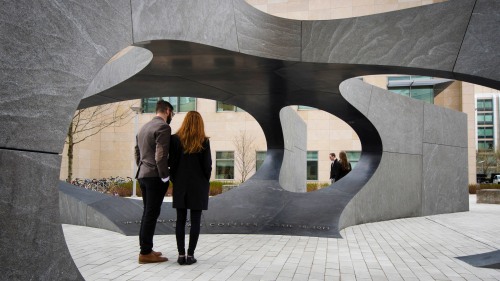 Featured Project
Collier Memorial
The Sean Collier Memorial at MIT is a tribute to the police officer killed after the Boston Marathon bombing. Designed by Höweler+Yoon Architecture, the curvilinear vault of 190 tons of granite represents unity. Quarra Stone played a vital role in the meticulous selection, fabrication, and assembly of the blocks. A symbol of community and remembrance, honoring Sean Collier and MIT's resilience.